Gabriele Toia: Tango, Jazz and Improvisations on Fortepiano
11 oktober 2015 | 20.15 uur | Museum Geelvinck,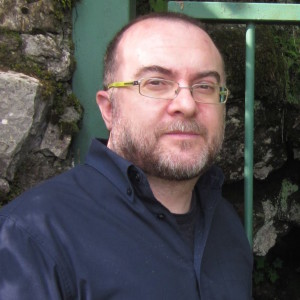 19.30 uur: pre-concert introduction by Gabriele Toia
20.15 uur: recital: Tango, Jazz and Improvisations on Fortepiano

An evening with Italian fortepianist, harpsichordist and (film & theater music) composer Gabriele Toia, with an unusual and surprising program on fortepiano, with music between Classical, Jazz, Tango and Improvisations.
Gabriele plays compositions from the classical music tradition, through jazzy and tango styles, to his own compositions ….. and improvises on all of them.
Program: Free improvisation
JOSEPH HAYDN (1732 – 1809)
Variations in f minor
GABRIELE TOIA (1967)
improvised variations on Folies d'Espagne
ISAAC ALBÉNIZ (1860 – 1909)
Prelude and Tango from "España" Op. 165
CLAUDE DEBUSSY (1862 – 1918)
Prelude III, Deuxième livre (…La puerta del vino)
ERIK SATIE (1866 – 1925)
Danse de travers I (with improvisation)
CARLOS GARDEL (1890 – 1935)
Amores de estudiante – valse (with improvisation)
EDUARDO AROLAS (1892 – 1924)
Colorao – tango (with improvisation)
BIX BEIDERBECKE (1903 – 1931)
In the Dark/Flashes
FATS WALLER (1904 – 1943)
The Jitterbug Waltz
GABRIELE TOIA
Due Notturni da un giardino segreto
Tango Pasacalle
Gabriele Toia – Biography
He graduated in piano from the 'G. Verdi Conservatory' of Milan. He went on to study composition with Alessandro Solbiati and, under the guidance of Emilia Fadini, harpsichord and fortepiano. He specialized in clavichord with Bernard Brauchli and Christopher Hogwood and harpsichord with Davitt Moroney. Over time he has also dedicated himself to jazz music.
He has given many recitals playing at numerous international music festivals and collaborated, among others, with the orchestra "Basel Sinfonietta", the ensemble of violas da gamba "Il Suonar Parlante" directed by Vittorio Ghielmi, the Orchestra Sinfonica Giuseppe Verdi in Milan and with conductors Michael Schønwandt, Giorgio Magnanensi, Monica Buckland Hofstetter and Fortunat Frölich.
Besides keyboard instruments, choral and chamber music, he has composed scores for several plays and short films as well as for numerous poetry readings, collaborating, with, among others, important italian poets Milo De Angelis, Vivian Lamarque and Franco Buffoni.
His music has been performed in Italy, Switzerland, Greece, Holland, USA, New Zealand and Australia.
With "Due notturni" he won the third prize at the 2014 international composition competition "Città di Albenga", in addition to having obtained an honorable mention for "Due preludi". The pieces will be published by Simon Verlag, Berlin.
In theater he has collaborated with the Piccolo Teatro di Milano (Giorgio Strehlerand Oriella Dorella) and with actor Franco Branciaroli.
He has recorded contemporary and ancient music for Ducale, MDS Records Zurich and participated in broadcasts of Italian and Swiss national radios.