Olga Pashchenko: 'Beethoven in Variations' op Fortepiano
14 oktober 2015 | 20.15 uur | Museum Geelvinck,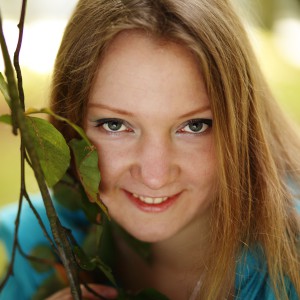 De jonge en virtuose Russische fortepianiste Olga Pashchenko won in 2014 de Pubileksprijs van het Geelvinck Fortepiano Concours 2014.
Nu speelt zij in de vijfde editie van het Geelvinck Fortepiano Festival een Beethovenrecital, met het repertoire dat zij eerder dit jaar op haar nieuwe CD presenteerde, in de Geelvinck Salon van 17 mei 2015.
Olga Pashchenko speelt werk van Ludwig van Beethoven, zoals de variaties uit de Eroica en twee zelden gespeelde korte sonates.
Programma 'Beethoven in Variations':
Ludwig van Beethoven (1770-1827)
– Introduction, 15 Variations and a Fugue Op. 35 Es-dur
– Sonata quasi una Fantasia Op. 27, 2 cis-moll
Adagio sostenuto
Allegretto
Presto agitato
——————        pauze        ——————
– Fantasy Op.77
– Sonata Op. 49,1 g-moll
Andante
Rondo allegro
«Waldstein» Sonata Op. 53 C-dur
Alegro con brio
Introduzione: Adagio molto
Rondo. Allegretto moderato – Prestissimo
Instrument:
Olga bespeelt voor dit programma de Böhm fortepiano vleugel, ons vriendelijk ter beschikking gesteld door Gijs Wilderom
Olga Pashchenko – harpsichordist, pianist, fortepianist, organist.
Olga Pashchenko is a young artist who has already established a reputation as a versatile performer with her own individual style of performance notable for sensitiveness toward different musical styles, virtuosity, wealth of color and special approach to each instrument she plays.
Olga Pashchenko was born in 1986 in Moscow. She began her musical studies at the age of six in the Children's Myaskovski Music School in the piano class of Sofia Genis. 1993 became laureate of the All-Russian Young Pianists'Competition.
In 1993 Olga entered the Moscow Special Gnessin Music School where she studied piano with Tatiana Zelikman and harpsichord with Olga Martynova. She gave her first piano recital in New York at the age of 9. In 2002 was granted the scholarship of the fund "Russian Performance Art". In 2003 became laureate of the Third International Gnessin Young Artists Competition and the Third International Beethoven Festival of Chamber Music..
In 2005 Olga Pashchenko graduated with honors from the Gnessin School and entered the Moscow State Tchaikovsky Conservatory.
2010 she graduated with honors from two departments of the Moscow State Tchaikovsky Conservatory – Department of Historical and Modern Art Performance where she studied with professor Alexei Lubimov (piano), professor Olga Martynova (harpsichord, fortepiano), and Organ Department – class of Alexei Shmitov.
In 2010 Olga Pashchenko has entered the postgraduate studies of the Moscow Tchaikovsky Conservatory – class of professor Alexei Lubimov, research supervisor – D.Mus.A. Konstantin Zenkin.
2011 entered Amsterdam Conservatory for fortepiano and harpsichord master studies under Richard Egarr.
Awards:
2005 – prizewinner of the Moscow Romantic Music Festival
2006 – winner of the International Piano Competition in Carinthia (Austria)
2007 – prizewinner(Second prize) of the First Moscow N.L.Bidloo Organ Competition
– winner of the All-Russian Harpsichord Competition in Saint-Petersburg
2008 – winner of the International Organ Competition Soli Deo Gloria (Moscow)
2009 – laureate (Second prize) of the X International Festival-Competition of Organ Music (Saint-Petersburg)
2009 – winner of the All-Russian competition "Young talents of Russia" in the nomination of music art
2010 – prizewinner of the First International Volkonsky Harpsichord Competition in Moscow (Second prize and Special Prize for the best performance of the Russian harpsichord piece – Fandango by Ivan Pratsch)
2010 – prizewinner (Second prize) of the Oude Muziek Competition in Bruges in the fortepiano nomination
2011 – winner of the First International Fortepiano Competition Schloss Kremsegg
2012 – winner of the International Hans von Bulow Piano Competition (First prize and special prize for the best performance of pieces by Chopin)
2012 – prizewinner (Second Prize and Audience Prize) of the Oude Muziek Competition in Bruges in the harpsichord nomination
2012 – winner (First Prize and Critic's Jury Prize) of the International Fortepiano Competition Premio Ferrari in Rovereto (Italy)
Olga Pashchenko has attended master classes led by Bart van Oort, Bob van Asperen, Trevor Pinnock, Malcolm Bilson, Davitt Moroney, Andreas Staier, Christine Schornsheim, Ludger Lohmann, Christopher Stembridge and others.
Olga Pashchenko performs regularly as harpsichordist, pianist, organist and fortepianist in various concert halls in Moscow and other cities of Russia, Belarus, Italy, USA, Austria, Belgium, France, Germany; took part in different festivals such as Seiler Festival (Germany) 2005, Poeke Fortepiano Festival (Belgium) 2006, Karlsruhe (Germany) 2009, Florence – Project of the Harvard University Centre for Renaissance Studies at Villa I Tatti (Italy) 2007, 2008, 2009, 2010, Utrecht Oude Muziek Festival Fringe (Holland) 2010, 2012, Sankt Gallen Festival (Austria) 2008, 2011, "New Horizons" Festival Saint-Petersburg (2009), International Piano Festival Saint-Petersburg (Russia) 2011, Soli Deo Gloria Festival (Italy) 2012, Reincken Festival Fringe (Holland) 2012, Mostra Fortepiano Bergamo (Italy) 2012, Concert series of modern music "Skazochnye stranstviya" Moscow 2011-2012, Antiqua 2012 – Accademia del Ricercare (Italy), Leipziger Chopin-Tage 2012 (Germany), Fiori Musicali della Svizzera Italiana 2012 (Switzerland). The repertoire of the artist embraces music from 16th to 21st century and includes solo music, chamber music, and concertos with orchestra.
From 2012 Olga Pashchenko records exclusively for the "Outhere"-company, label Fuga Libera.