Elation on Two Clavichords, Anna Maria McElwain & Dóra Pétery
13 oktober 2015 | 20.15 uur | Museum Geelvinck,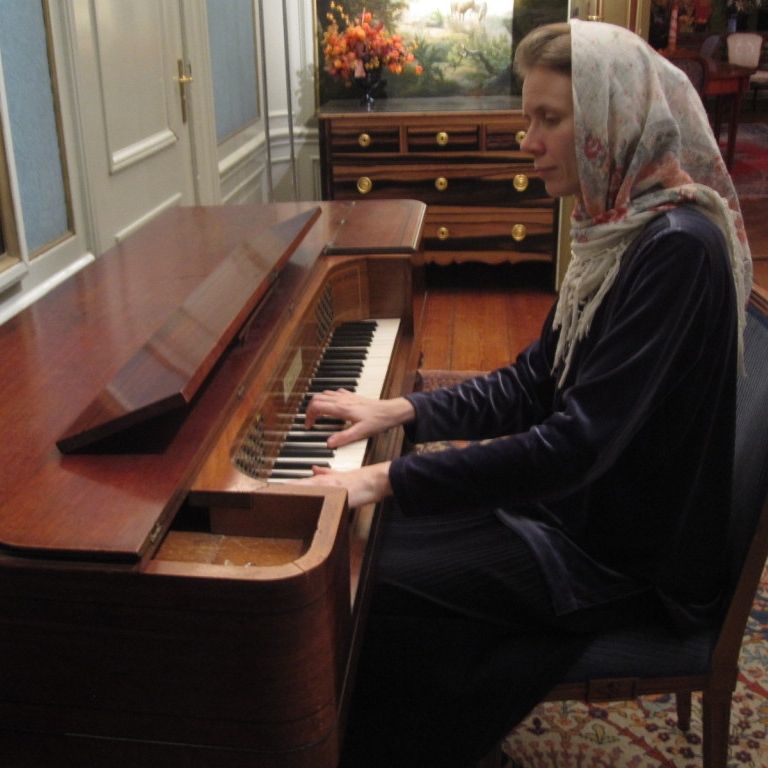 19.30 uur:
Introductie door Sander Ruys
20.15 uur:
Elation on Two Clavichords
Dóra Pétery en Anna Maria McElwain op twee klavichords
PROGRAMMA:
Johann Gottfried Müthel (1728–1788) :
Duetto in E Flat Major for two keyboards
–  Allegro moderato e cantabile
–  Adagio mesto e sostenuto con affetto
–  Allegretto
Muzio Clementi (1752–1832):
Sonata for two keyboards, in B Flat Major
–  Allegro di molto
–  Allegretto. Tempo di Menuetto
————-         INTERMISSION        ————-
Wolfgang Amadeus Mozart (1756–1791):
Andante and Variations in G Major, K. 501
Sonata in D Major for two keyboards, K. 448
–  Allegro con spirito
–  Andante
–  Allegro molto
19.30 uur: Inleiding door Sander Ruys:
Het concert op twee clavichords wordt voorafgegaan door een inleiding door Sander Ruys, die ons vriendelijk beide clavichords (naar Silbermann, Straatsburg, 1775) in bruikleen geeft voor deze gelegenheid. Deze avond wordt mede-georganiseerd door het Nederlands Clavichord Genootschap.
19.30 h.: Introduction by Sander Ruys:
This evenings' recital will be preceded by an introduction by Sander Ruys, who kindly offers both clavichords (after Silbermann, Straatsburg, 1775) for this occasion. This evening is organized in cooperation with the Netherlands Clavichord Society.
Anna Maria McElwain – early keyboards: fortepiano, harpsichord, clavichord
Anna Maria McElwain (1973) is a Finnish-born musician who started piano and violin lessons at the age of six. Her first teachers include Tytti Rouhe and Marjatta Linko. After studying at Turku Conservatory under the guidance of the Polish pianist, Elzbieta Guzek, she continued her studies in the United States at State University of New York at Buffalo with Dr Stephen Manes.
At the age of 21 she had already completed a Master of Music degree in Piano Performance as well as a Master of Arts degree in Music Theory. In her theoretical studies she specialized in the musical meaning of the Massoretic signs of the Hebrew Bible. Based on her studies she has recorded recitation of the Hebrew Bible.
Anna Maria is not known only as a pianist but as a player of harpsichord and fortepiano as well. She performs regularly as a chamber musician and accompanist and has performed in both United States and Europe. She is a winner of Baird Concerto Competition from 1993 and has played as a soloist of Buffalo Civic Symphony Orchestra.
In the past decade Anna Maria has specialized in the clavichord. She studied the clavichord and fortepiano with Dr Pekka Vapaavuori, clavichord improvisation with Mikko Korhonen, and harpsichord with Jaana Ikonen. In 2009 she finished her clavichord diploma with excellent grades and was the first Finn in Finland to achieve a Master of Music degree in clavichord performance.
Anna Maria taught at the Sibelius Academy Kuopio department until 2010 and currently focuses mainly on giving clavichord concerts. Anna Maria's repertoire consists of music from Renaissance to early Romantic period. Anna Maria has explored the limits of the clavichord with the Beethoven Sonatas and has played Chopin on the clavichord mainly as a curiosity, which resulted in a study on the topic, "The Clavichordist's View on the Chopin Preludes" which compares the possibilities of the Swedish clavichords with the German models.
Anna Maria owns two fretted clavichords, a Wåhlström and a Hubert, both built by her father Thomas McElwain, as well as an unfretted five-octave Specken-Svensson built by Stig Lundmark, with help from the Northern Savonia Culture Fund.
Anna Maria performs currently with the aid of grants which she received from the Finnish National Council of Arts and Northern Savonia Council of Arts.
Together with Dr Michael Tsalka Anna Maria is the founder and artistic director of Nordic Historical Keyboard Festival which opened in Kuopio, Finland in 2012 (August 15-24). The festival offered 19 concerts given by artists from three continents, three world premieres, and a course in historical keyboards. The second edition of the festival took place in Kuopio, Finland, August 14 – 23, 2013.
Dóra Pétery: clavichord, harpsichord, fortepiano, organ
Dóra Pétery was born in Budapest. She studied organ performance at the Franz Liszt Academy of Music, obtaining her bachelor's degree with a qualification of "excellent". From 2001 to 2003 she studied at the Sibelius Academy in Helsinki with Miklós Spányi and was the first student in the history of the Academy to have the clavichord as her main subject. From 2005 to 2008, she was a student in Hans-Ola Ericsson's concert organist class at the Musikhögskolan in Pitea, Sweden. For a short period her studies were supported by the Eötvös Fellowship. At the moment she is a doctoral student at the Liszt F. Academy of Music in Budapest. During her years in Finland (2001-2007), she taught keyboard instruments at the Oulu Conservatory and the Oulu Polytechnik. She also taught clavichord playing at the Tokaj International Summer Academy.
Ms. Pétery performs recitals regularly as a soloist and in different chamber music formations on the organ, clavichord, harpsichord and piano. Her repertoire extends from the Renaissance to the Contemporary period and also includes experimental music. She has premiered several works by different composers. She has also participated in the O. Messiaen Festival (Stockholm) and recorded for the Swedish and Hungarian radios. Since 2010, she is artistic director of the Budapest Clavichord Days. Currently, she is the organist of the Csillaghegy Lutheran Church in Budapest.