Tullia Melandri: Ancient Echoes: Bach & de Schumanns, plus CD Presentatie
6 oktober 2019 | 16.45 uur | Kerkzaal Luthermuseum in de Wittenberg, Amsterdam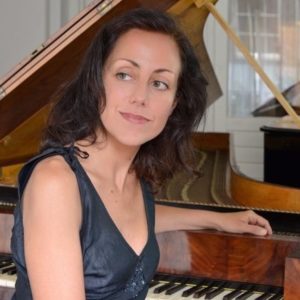 … die avond van 29 mei 1832, kwam Robert Schumann thuis, na een Bach-concert – ging aan de piano zitten en de muziek vloeide uit zijn handen als bloeiende bloemen: Bach's inspiratie tot Schumann's Impromptus Op. 5, op een thema van Clara.
Programma 'Ancient Echoes':
Clara Wieck (1819-1896)
Praeludium et Fuga in B flat Major, op.16 n. 2
Domenico Scarlatti (1685-1757) 
Sonata in F sharp minor, K. 25

Robert Schumann  !1810-1856)  
Intermezzi, Op.4:
–       Allegro quasi maestoso – Alternativo: più vivo – Tempo primo
–       Presto a capriccio
–       Allegro marcato – Alternativo: Assai vivo – attacca Nr. 4
–       Allegro semplice – attacca Nr. 5
–       Allegro moderato – Alternativo: L'istesso tempo – Animato
–       Allegro – Alternativo
———-     pauze     ———-
Johann Sebastian Bach (1685-1750)
from Das Wohltempierte Klavier, Teil II:
Praeludium et Fuga II in C minor.
Robert Schumann (1810-1856)
Impromptus Op. 5 on a theme by Clara Wieck (1833 version)
CD presentatie: 
De nieuwe CD, geheel gewijd aan Robert Schumann en door Tullia gespeeld op een Weense fortepiano, is tijdens het concert in de pauze te verkrijgen voor 15 euro (dringend verzoek met gepast geld te betalen – er is helaas geen pinapparaat voor cd-verkoop).
On this program
"This evening I tore through six Bach fugues, arranged as duets, at sight, with Clara (…), and when I came home, about 9 o'clock, I sat myself down at the piano and ideas poured from me till veritable flowers and gods seemed to stream from my fingers. The idea was C. F. G. C."
So, in his Record of my Life in Leipzig, on the 29th of May 1832, Robert Schumann describes one of his improvisations at the keyboard, which brought him to the composition of the Impromptus op 5, on a theme of Clara Wieck. The theme to which they refer is that of the Romance Variée, op. 3, that Clara composed between 1831 and 1833. Actually, recent studies demonstrated that the original theme, at least its "head", was initially conceived by Schumann, who already wrote it in his Sketches from 1830. It is probable that Schumann gave the musical idea to the 11 y.o. Clara in 1830, when he came to live at the house of his piano teacher Friedrick Wieck (the father of Clara).
The Impromptus
The Impromptus, defined by Schumann himself, in one of his autobiographical sketches as "a new form of variation", put together himself and Clara (in the upper theme), and Bach (in the bass notes CFGC that go through the entire piece and culminate in a Fugue in the finale). The spirit of Bach is present also in the use of techniques as the invertible counterpoint in n.3 and the treatment of Clara's theme as cantus firmus in n.4 and 8. The Finale, with its dancing and animated start and the unpredictable fugato that follows make us think at the words of Schumann: "The best fugue is that one that the public takes for a Strauss waltz; in other words, a fugue where the structural underpinnings are no more visible than the roots that nourish the flower".
Bach & Scarlatti
The presence of pieces of Bach and Scarlatti was a habit that Clara Schumann took probably from Ignaz Moscheles, virtuoso and youth idol of Schumann. He was used to give, among other types of concert, "Historical soirées" in which he mainly performed works of J. S. Bach and Domenico Scarlatti. Schumann learned to appreciate ancient music in his Heidelberg period, when, still apparently student in Law, but practically already all taken by music, he was in friendship with the jurist Anton Friedrich Tibaut, passionate of ancient music. Schumann never stopped studying fervently Bach. He also influenced Clara in her studies, before and after marriage, advising her to not spend time on virtuostic, empty pieces, but dedicate herself to the study of the true big masters of the past.
The Intermezzi
The Intermezzi op. 4 are clearly influenced by ancient composition techniques and sonorities. Some of them explore the possibilities of polyphony and polyrhythm. Other ones contain a whirling movement of scarlattian memory. In other Intermezzi, the technique of the musical fragment are explored in an even more innovative way than Papillons. Schumann said of them: "The Intermezzi are going to be something special – each note is going to be weighed up carefully". The quotation from Goethe's Faust in the second Intermezzo ("Meine Ruh ist hin", also put in music by Schubert), makes us think that Schumann probably had inspiration in Goethe's Faust for these pieces, much earlier than he effectively did with the composition of his Faust Szenen (1844-53). The term Intermezzo, not so often used in piano literature before Schumann (Mendelssohn used it in his Second piano quartet), alludes probably at the interludes played between acts of a comedy or a drama, and confirms the very innovative view of Schumann on piano music.
Tullia Melandri – fortepiano
Tullia Melandri graduated in Piano with full marks in 1998 at the Rovigo's Conservatory and in Conservation of Cultural Heritage (Musical Specialization) at the Bologna's Athenaeum in 2002. She studied chamber music at the Accademia Chigiana and graduated at the International Pianistic Academy of Imola "Incontri col Maestro" in chamber music with Piernarciso Masi. Later she studied with Daniel Rivera at the "P. Mascagni's Istituto Musicale in Livorno, achieving the Master cum laude.
Her interest in historically informed interpretation brought her to study fortepiano with Bart van Oort at the Koninklijke Conservatorium in Den Haag, where she brilliantly graduated in 2012.
She won prizes at Piano, Chamber Music and Fortepiano Competitions (2nd prize at the Geelvinck Square Piano competition – 2011; 2nd prize at "Giulio Rospigliosi" piano competition – 2007; 2nd prize at "Nuovi Orizzonti" chamber music competition – 2006; 3rd prize at "Dino Caravita" chamber music competition; 3rd prize at "L. Muzii Altruda" piano competition – 1995) and she is active as soloist and chamber musician in various formations.
She has performed, among others, for Ravenna's "Giovani in musica" festival, Ravenna Festival ("Vespri di San Vitale"), Florence's "Accademia Bartolomeo Cristofori", Utrecht's "Oude Muziek" festival, Dordrecht's Bachfestival and Geelvinck Fortepiano Festival.
She recently recorded a CD (Dynamic, 2019) entirely dedicated to the music of Robert Schumann on a Viennese fortepiano of the 1830's.
Locatie
Kerkzaal Luthermuseum in de Wittenberg
Luther Museum in de Wittenberg
De Geelvinck Salon heeft een nieuw onderdak gevonden in het gebouw, waar sinds juni  2019 het Luther Museum in is gevestigd, ook bekend als de Wittenberg. Deze naam is een verwijzing naar de stad waar Luther eens zijn stellingen bekend maakte. Het gebouw, dat dateert uit 1772, bevindt zich in de Plantagebuurt, tussen Weesperstraat en Roetersstraat, op de hoek, waar Nieuwe Kerkstraat en Nieuwe Keizersgracht samenkomen. Het adres van het Luther Museum en de kerkzaal is Nieuwe Keizersgracht 570.

The Geelvinck Salon has found a new home in the building, which since June 2019, houses the Luther Museum, also known as the Wittenberg. This name is a reference to the city where Luther once made his theses known. The building, which dates from 1772, is located in the Plantagebuurt between Weesperstraat and Roetersstraat on the corner where Nieuwe Kerkstraat and Nieuwe Keizersgracht meet. The address of the Luther Museum and the church hall is Nieuwe Keizersgracht 570.
Lees verder
Nieuwe Keizersgracht 570
1018 VG
Amsterdam