Tullia Melandri – fortepiano: Bach and The Schumanns: J. S. Bach, R. Schumann and Clara Wieck
8 augustus 2019 | 13.00 uur | Muziek Museum Zutphen, Zutphen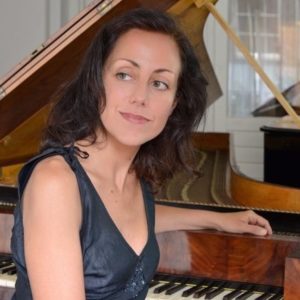 Performer:
Tullia Melandri (Italy/NL), fortepiano
Title:
Bach and The Schumanns: Works by J. S. Bach, R. Schumann and Clara Wieck
Instrument:
Zumpe Square Piano 1769 and Conrad Graf Fortepiano 1836
Fringe concert 13 uur
Program
Bach & the Schumanns 
"The best fugue is that one that the public takes for a Strauss waltz; in other words, a fugue where the structural underpinnings are no more visible than the roots that nourish the flower". (Robert Schumann)
Clara Wieck (1819-1896)
Praeludium et Fuga in B flat Major, op.16 n. 2
Trois Romances, Op. 11
Andante
Andante – Allegro Passionato
Moderato – Animato
Robert Schumann (1810-1856)
Drei Romanzen Op. 28
Sehr markiert
Einfach
Sehr markiert
Intermezzo I: Presto – Erstes Tempo
Intermezzo II: Etwas langsamer – Erstes Tempo
———-        INTERMISSION        ———-
Johann Sebastian Bach (1685-1750)
from Das Wohltempierte Klavier, Teil II:
Praeludium et Fuga II in C minor.
Robert Schumann (1810-1856)
Impromptus Op. 5 on a theme by Clara Wieck
(1833 version)
On this program
"This evening I tore through six Bach fugues, arranged as duets, at sight, with Clara (…), and when I came home, about 9 o'clock, I sat myself down at the piano and ideas poured from me till veritable flowers and gods seemed to stream from my fingers. The idea was C. F. G. C.": so, in his Record of my Life in Leipzig, on the 29th of May 1832 Robert Schumann describes one of his improvisations at the keyboard, which brought him to the composition of the Impromptus op 5, on a theme of Clara Wieck. The theme to which they refer is that of the Romance Variée, op. 3, that Clara composed between 1831 and 1833. Actually recent studies demonstrated that the original theme, at least its "head", was initially conceived by Schumann, who already wrote it in his Sketches from 1830. It is probable that Schumann gave the musical idea to the 11 y.o. Clara in 1830, when he came to live at the house of his piano teacher Friedrick Wieck (the father of Clara). In any case, the real theme of the piece is not the flourished melodic line of the right hand, but the basses CFGC, that we hear at the beginning of the composition. Schumann made a revision of his op. 5 in 1850, but we present here the 1833 version.
'The Romances' of Clara and Robert Schumann
The Romances of Clara and Robert Schumann are interconnected. Clara composed her op. 11 in the early 1839, when Schumann was in Wien. When he received a copy of the second piece, he responded with enthusiasm: "You complement me as a composer as I do you. Every one of your thoughts emanates from my soul, just as I have to thank you for all my music ". Later in the same year (the same year in which the lovers brought their case – their desired marriage blocked by Clara's father – to court) Schumann composed his Romances op. 28. Even if his style is different from Clara's, we can hear echoes of her passionate playing in the first romance. The second is a lied for two voices, in a suspended atmosphere, probably one of the most delicate and beautiful pages of the pianistic literature. In the third romance we recognize again the energetic playfulness of Florestan, although suddenly the second Intermezzo brings, hidden and in a dreamy way, a quotation of Clara's Notturno from the Soirées musicales op. 6, that Schumann quoted also in his Novellette op. 21 n. 8 (Stimme aus der Ferne).
The Schumanns & the Festival Theme: The Salon
The connection with the Salon music is Clara Schumann (also in her bicentenary): she had to perform often salon virtuosistic pieces in her early career. Sometimes she dared to perform Robert Schumann, but she feared he would not be understood. Of course, in the second part of her career, after his death she became his interpreter.
Robert Schumann never wrote salon music: even when brilliant and of difficult execution, his music is deepest art and not written to gain an easy applause
In the Impromptus op. 5 some virtuosity and brilliance is displayed in some variation–compensated by resonances of the last sonatas of Beethoven and by a very complex fugato at the end of the piece.
Tullia Melandri – fortepiano
Tullia Melandri graduated in Piano with full marks in 1998 at the Rovigo's Conservatory and in Conservation of Cultural Heritage (Musical Specialization) at the Bologna's Athenaeum in 2002. She studied chamber music at the Accademia Chigiana and graduated at the International Pianistic Academy of Imola "Incontri col Maestro" in chamber music with Piernarciso Masi. Later she studied with Daniel Rivera at the "P. Mascagni's Istituto Musicale in Livorno, achieving the Master cum laude.
Her interest in historically informed interpretation brought her to study fortepiano with Bart van Oort at the Koninklijke Conservatorium in Den Haag, where she brilliantly graduated in 2012.
She won prizes at Piano, Chamber Music and Fortepiano Competitions (2nd prize at the Geelvinck Square Piano competition – 2011; 2nd prize at "Giulio Rospigliosi" piano competition – 2007; 2nd prize at "Nuovi Orizzonti" chamber music competition – 2006; 3rd prize at "Dino Caravita" chamber music competition; 3rd prize at "L. Muzii Altruda" piano competition – 1995) and she is active as soloist and chamber musician in various formations.
She has performed, among others, for Ravenna's "Giovani in musica" festival, Ravenna Festival ("Vespri di San Vitale"), Florence's "Accademia Bartolomeo Cristofori", Utrecht's "Oude Muziek" festival, Dordrecht's Bachfestival and Geelvinck Fortepiano Festival.
She recently recorded a CD (Dynamic, 2019) entirely dedicated to the music of Robert Schumann on a Viennese fortepiano of the 1830's.
Locatie
Muziek Museum Zutphen
Het Geelvinck Muziek Museum opende op 30 juni 2017 zijn deuren in Huis De Wildeman (voorheen Museum Henriëtte Polak), pal in de historische binnenstad van Zutphen. Dit imposante patriciërshuis met zijn eind 18e eeuwse klassieke gevel, stamt uit de late middeleeuwen. De stijlkamers met historische fortepiano's ademen de sfeer van Beethoven's tijd. Aan deze iconische componist, die volgens sommigen in Zutphen werd geboren, is de tentoonstelling op de 1e verdieping gewijd. Op de 2e verdieping – bij het open depot met restauratieatelier – bevindt zich een schuilkapel uit 1628. Regelmatig vinden er concerten op historische piano's uit de 18e en 19e eeuw plaats. In november 2019 heeft het Muziek Museum de deuren gesloten. Meer over de achtergrond hiervan kunt u lezen op
https://muziekmuseumzutphen.nl
. U vindt daar ook de: